SANGEETHA RASIKA SANGAM - 2nd CONCERT for SEPTEMBER, 2001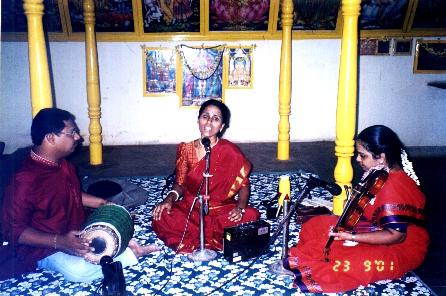 The 14th Music Concert by Vocalist Radha Parthasarathy, with Jayanthi Keshav on violin and Erode Nagarajan on Mridangam was organised by Sangeetha Rasika Sangam, Natesa Nagar, Chennai – 600 092 on 23rd September 2001 at Srinivasa Kalyana Mandapam, Kaliamman Koil Street, Sayee Nagar, Chennai. The hall centrally located accommodated a huge audience that turned up from the neighbourhood colonies.
Radha Parthasarathy executed the Sri Raga Varnam Sami Ninne in a unique style that revealed its auspicious nature and the sublimal glory. Sakthi Ganapathim Baje Aham of Muthiah Bahagavater in Nattai added much grace and imparted the necessary momentum to the event. Mayil Vahana in Mohanam was sung with great technical perfection. The swara exercise was done by handling the creative elements of this raga in aesthetically pleasing ways. The delineation of Raga Hindolam as a prelude to Sivan's krithi Maa Ramanan added lustre to the programme. The komala swaras in the structured phrases in it revealed the depth of knowledge of the artiste. The piece on Atana Anupamu Gunambudhi satisfied the general expectation of all levels of audience. Sambho Maha Deva in Pantuvarali, both from the standpoint of raga rendition and swara prasthara spoke voluminously the clarity level and true grasp of this raga, giving no room for any mistake identity of raga which normally musicians are susceptible to.
The main raga taken up for elaboration was Karaharapriya. The sweet voice produced positive vibrations of divinity and devotional fervour. Chakkani Raja a soul-stirring Thyagaraja Kriti was sung in a mellifluous tone – Sangathies, Neraval, Swara elaboration all forming into a coherent whole to produce a blissful and transcendental state of mind in Rasikas – Jayanthi Keshav reproduced remarkably the subtleties of this raga in her violin . Her masterly skill in handling the instrument with ease and dexterity is praiseworthy. Erode Nagarajan, then and there, produced Laya appeal by skillfully playing on Mridangam.
Maname Kanamum Maravadhae of Papanasam Sivam, pregnant with meaning to attain supreme spiritual state was emotively sung in the raga Pimplas. The ragamalika Gana Mazhai Pozhiginran in Pyagu, Bowli and Manirangu gave a sustaining interest in the audience. It was followed by Kannanai Padu Manamae in Yamuna Kalyani and a thillana in Piyagu, which drew applause. With Sri Rama Jaya Mangalam in Suruti, the concert ended well.
Jayanthi Keshav proved her connoisseurship and consummate skill in playing violin, meeting rigorous standards set in by serious rasikas.
Erode Nagarajan's rhythmic support deserves great appreciation. A Mridagam Maestro as he is, his "Thani" received a thunderous applause from the audience.