The 127th Program of Sangeetha Rasika Sangam, Chennai 92 was held at Sri Varasiddhi Vinayagar Temple, Chinmayanagar (Central Chinmaya Mission Trust) on Saturday the 20th February 2010 - between 7.00 and 9.00 in the evening.
Senior students and junior talents of Sri Mudhraalaya, an institution founded by Ms Lakshmi Ramaswamy performed Bharatanatyam on February 20, 2010 at Sri Varasiddhi Vinayakar Temple , (Central Chinmaya Mission Trust), Chinmayanagar Stage 1 in Virgumbakkam under the auspices of Sangeetha Rasika Sangam.
The vocal rendition by Ms Vanathy Raghuraman and Nattuvangam by Lakshmi Ramaswamy were supported by Sri Nagaraj on the Mrudangam and Sunil Bhaskar on the violin.
Program items taught, trained, conducted by Smt Lakshmi ramaswamy. All the items choregraphed by Smt Lakshmi Ramaswamy
Sri Mudhraalaya presented senior students and junior talents in a program of Bharatanatyam, with traditional margam repertoire. As in a traditional margam, opening items, varnam and kritis are strung together to suit the temple ambience.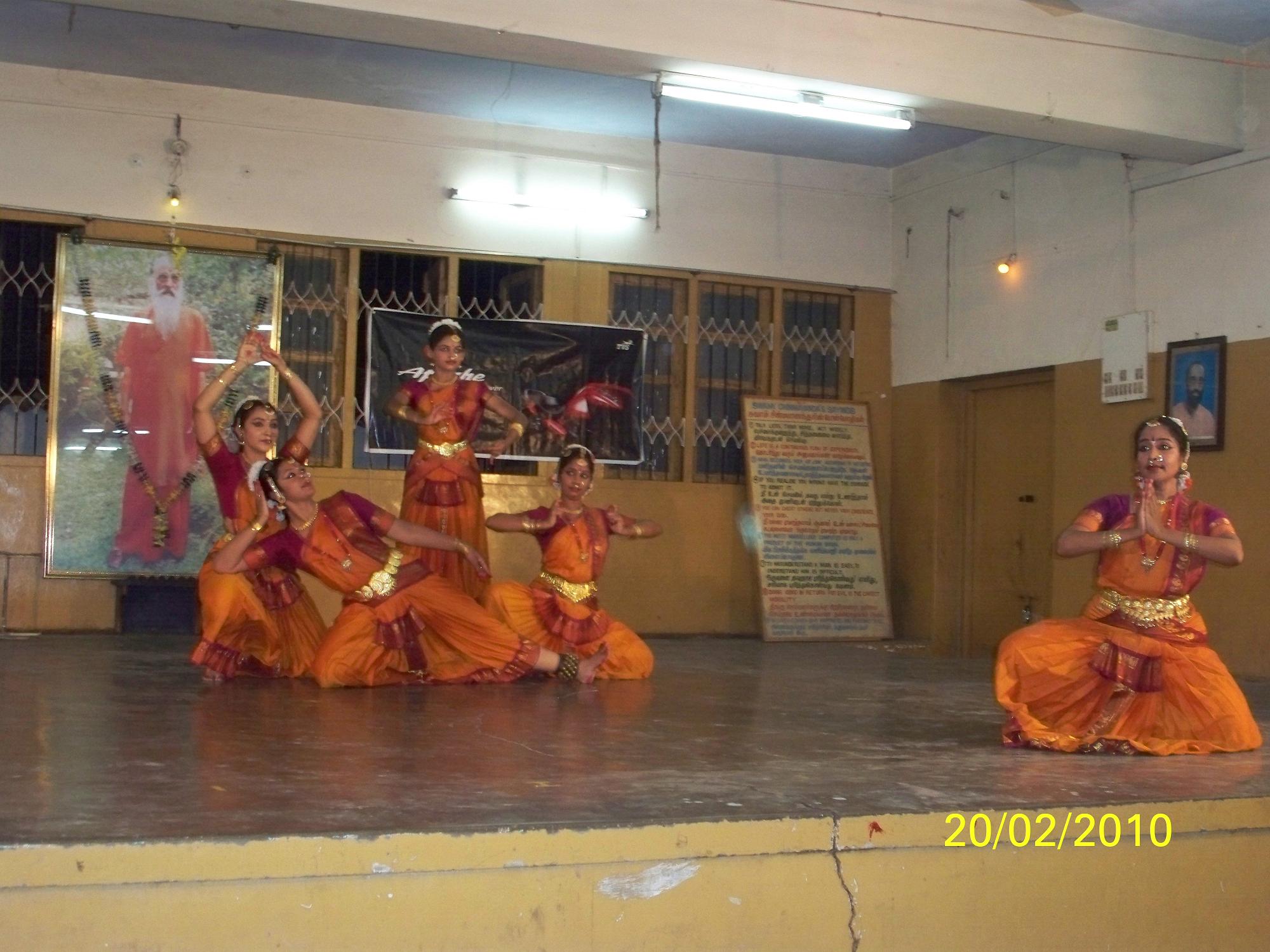 1. Mayil Viruththam – in Kavuthuvam format – shanmugapriya – Rupakam
The program commenced with 'Mayil Viruththam'. Mayil viruttam written by Arunagiri Nathar hails the peacock mount of Lord Muruga. Chosen verses from the sloka have been strung into a kavuthuvam format. Kavuththuvams are poetical compositions, wherein the words are juxtaposed with chollu kattus. They belong to the temple ritualistic renditions, and are believed to ward off evil and bring victory in any venture. There are many traditional kavutuvams made on deities of various temples. This kavutuvam is composed by Smt Lakshmi Ramaswamy using the sloka verses of the Mayil Viruththam.
The dance rendition incorporates the episodes of the peacock along with Lord Muruga: The swift peacock that took him around the world in seconds, in response to the challenge posed by Lord Shiva for the sake of the 'mango- gnana pazham'; the powerful peacock that took Him to the war on which the 'sooras' were dumb folded with fear. Peacock almost reflects Lord Muruga, since it comprises both beauty and power as Muruga himself.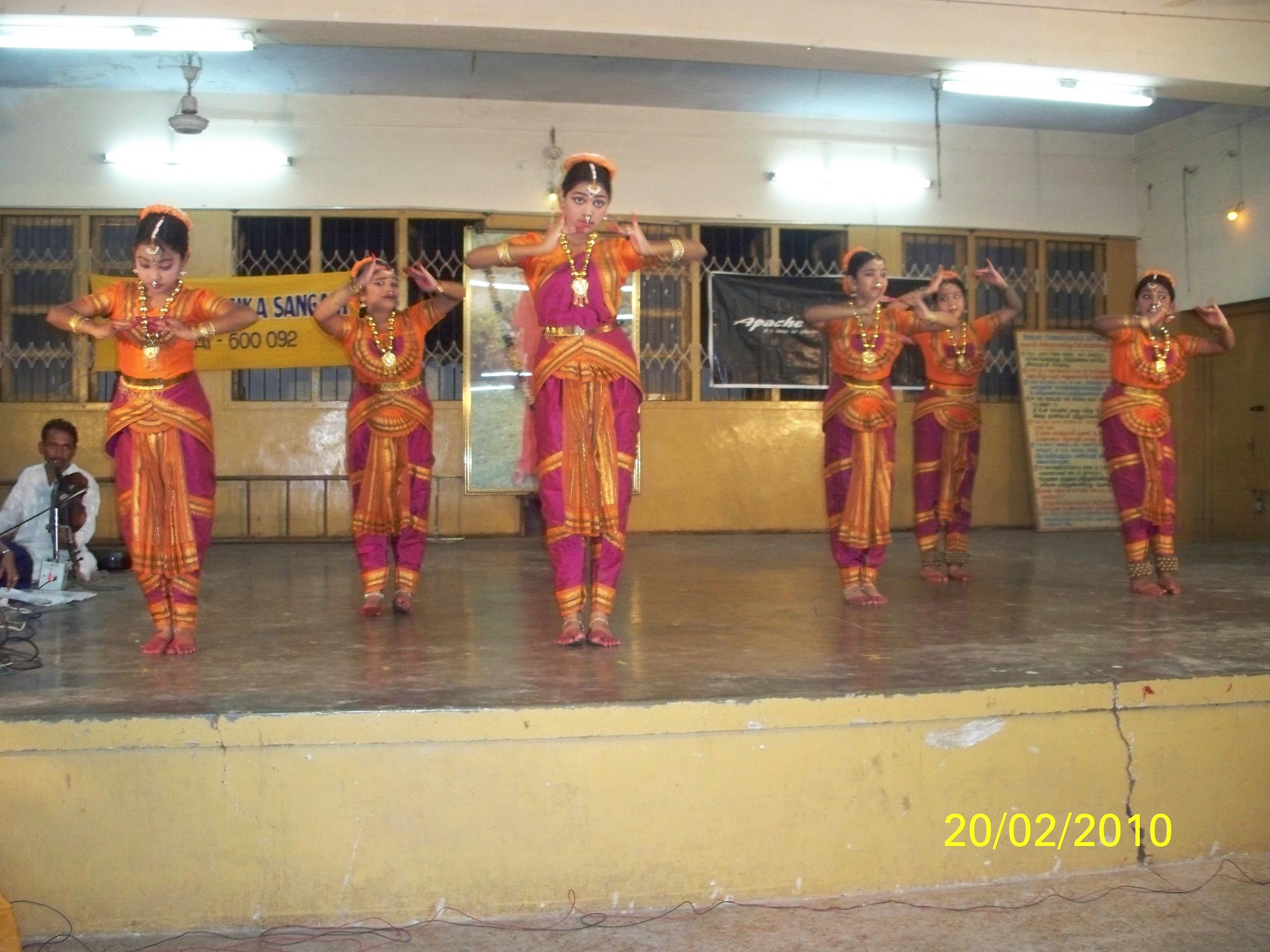 Performed by Senior students: Smt Archana Mahesh, Ms Purnima Balasubramanian, Ms Devi Ghanshyamdas, Ms Rajalakshmi, Ms Keerthana.
2. Sri Gananaatha – geetam – Malahari – rupakam
Geetams are simple musical compositions, mainly intended as exercises for learning raga and music. This has been choreographed into a dance sequence incorporating all the varieties of adavus for learners of dance. This is the first item generally taught at Sri Mudhraalaya to help students to use their abinaya along with various adavus.
This unit extols Lord Ganesha, who is addressed as gana-naatha. He is worshipped by one and all and is the destroyer of all evil; he is the principal deity worshipped when any work is undertaken. The devotee surrenders to this auspicious Lord.
Performed by: Adhishree, Lasya, Niveditha, Rajalakshmi and Jayaluxmee Curpen
3. Alarippu – tisram
Alarippu is the first item in the margam format of Bharatanatyam. Before going on to more intensive items, the body and mind are brought to tune by simple movements of all joints of the physical body thereby also synchronizing the mind. Alarippus are set to different rhythm cycles and are performed to mnemonics recited by the nattuvanar. The alarippu chosen for this program is in tisram, the three beat cycle.
Performed by: Vaishinavee, Rajalakshmi and Jayaluxmee
4. Keertanam – Sri Raja rajeswari – Ramapriya – aadi – Tanjore Quartette
Belief of Goddess Parasakti is known as 'Saaktam'. The diety placed on the highest pedestal, seated on the 64th peetam of the Mahameru, and rules the universe is Rajarajeswari. She has Maatangi who is known as 'mantrini' and vaaraahi, who is the war front leader. Assisted by them she blesses all her devotees. 'Do not turn away from me oh mother, pleads the devotee, do grant me your gentle glance of compassion'
Performed by: Archana Mahesh
5. Tamil paadal – theeraadha vilayaattu pillai – ragamaalika – kandanadai aadi – Mahakavi Bharatiyaar
Who will not love to see the childhood pranks of Lord Krishna enacted? Two junior students bring such episode of child Krishna, reliving them.
Performed by: Niveditha and Adhishree
6. Varnam – Dasaavathaaram – Gowlai maala (gowla raagams: Reeti gowlai, Narayana Gowlai, ) – Adhi – penned by Dr S Raghuraman, tuned by Smt Vanathy Raghuraman
Whenever Mahavishnu is hailed, his deeds of Dasaavathaaram are sure to be spoken. Here the episodes of the dasaavathaaram: retrieving the Vedas: Matsya, supporting the mount meru: Kurma, relieving bhooma devi: Varaaha, taking form of Narasimha for the devotion of prahlaada and killing of Hiranya, subduing the ego of King Mahaabali on request of the devas: Vamana, Devoted son Parasurama, the loyal spouse Rama who did not give up to the wishes of Surpanaka, Balarama who requested lord Vishnu to be born as elder brother, Krishna who gave the Geetha and the ensuing Kalki to bring light after Kaliyuga and brought as visuals.
Performed by: Archana Mahesh, Purnima Balasubramanian, Devi Ghanshyam das, Keerthana, Rajalakshmi, Adhishree and Niveditha
7. Keerthanam – Aanadhakooththu – rishabapriya – Adhi
He is saluted as king of Dance, Nataraja. Enshrined at the temple with golden roof, Citambaram, he dances his koothu which is symbolic of creation and happiness. The devas and humans praise him alike, with His consort Sivakami, He blesses His devotees, while this dance is happily witnessed by the sages Patanjali and Vyagrapaada.
Performed by: Keerthana
8. Arupadai veedu: ragamalika – aadi
As praised in Tirumurugaatrup padai, Lord Muruga is seated as the presiding deity in six special places. They are called as arupadai veedu. The six places are: Pazhani, Swamimalai, Tiruchendur, Tiruttanigai, Tiruparangkundram and Pazhamudircholai. Performed by juniors and debutants: Adhishree, Niveditha, Vaishinavee, Nishitha, Arya and Hemamalini.
9. Kriti – Mahadeva siva shambho – Revathi – aadi
One of the many names attributed to Lord shiva is Shambu. He is handsome as crores of cupids put together, he takes care of millions of his devotees, he is the savior of the universe, he is compassionate he gets pleased by the 'sama gaana', praises the poet.
Performed by: Devi Ghanshyam das
10. Sivasakthikoothu – sivasakthi – aadi – Mahakavi Bharathi
She is the mother of the universe, she is the panca butas, she resides as satva rajas and tamas, she is superior to Brahma Vishnu and siva, her dance brings fresh new energy as she is the living force behind them.
Performed by: Purnima and Devi
11. Nindrantha mayil – folk metre – khanda nadai – Oothukaadu venkata kavi
Krishna chose the flute as his companion. It is known to be very much a part of Him. The music that emanates out of this flute draws all living beings towards it. Bound are not only Humans but also the bees, peacocks and cows. 'Leave all your earthly connections and respond to this divine call', says the poet.
Performed by: Purnima
12. Navaragamalika – Aadi – Dr S Raghuraman – tuned by Vanathy Raghuraman
The mother godess is worshipped as navarathri nayaki. The navarathri celebrations eulogize her as Durga Lakshmi and saraswathi. The nine ragams chosen reflect the names of the goddesses: Durga, sivasakti, paalini, kamala manohari, amritavarshini, kanakaangi, saraswathi, purnchandrika and Kalyani
Performed by students of Archana Mahesh: Keerthana V, Shobhana, Chitralekha, Saisudha and Shevanie
MANGALAM.
There was a packed appreciative audience who enjoyed the performance.

Sangeetha Rasika Sangam.