Smt.Veena Ramakrishnan, founder of the Bharathanatyam dance school " SHREE NRITHYAM ", Chennai and her eleven students gave an impressive dance performance on Sunday the 25th of January, at the Varasiddhi Vinayagar temple, Chinmaya Nagar, stage 1 at 7 in the evening.
The program started with young children, Sruthi, Vrikshika, Supriya, V.Gayathri and Tara dancing to slokas on various gods and goddesses moving on to 'Maha Ganapathim' in Nattai, Ekam, in which piece the children danced admirably to both the sahitya, jathis and swara passages.
'Pushpanjali 'in Nattai,Adhi followed next danced by ragini set the pace for the entire program. ' Aananda Nadamidum Paadan ' in Kethara gowlai, Adhi, which was danced by Aparna, Madhu, Janani and Hema did justice to the strength of the composition with equal stress on abhinaya and nritta.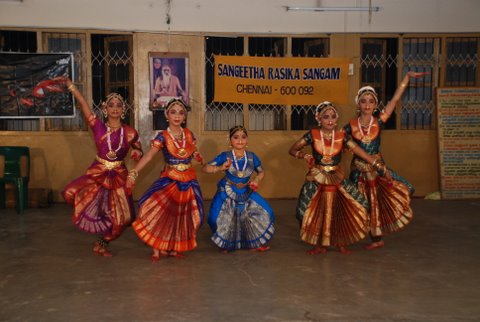 Ankitha Ramakrishnan and Aparna gave scintillating performances in Bharathiyar's 'Om Shakthi Om 'in Ragamalikai and "vellai thamarai 'in beemplas, adhi thalam. Both their expressions captured the hearts of the audience. Ragini proved her prowess once again in Swami. Dayananda Saraswathi's "Bho shambo 'in Revathi, with neat footwork and excellent abhinaya.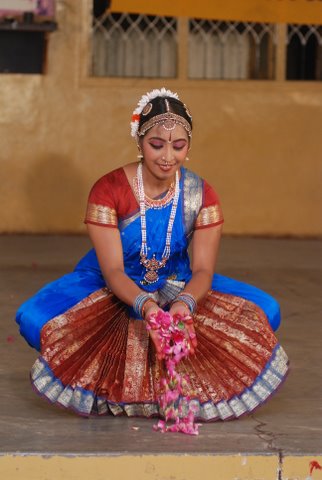 The children Supriya,Hema,Janani,Madhu,Tara and V.Gayathri danced very beautifully to a padam 'Aanandaamirthagarshini ' in Amirthavarshini in perfect rhythm and coordination. Smt.Veena Ramakrishnan danced to Oothukadu Venkatasubbaiyar's piece 'Neelamalar Kola ' in vasantha and 'Ambavaani ' in keeravaani and expressed her forte in abhinaya and nritta in a superior fashion.
The other items ' Thaaye yashodha ', 'Baaro krishnayya ', 'Kalyani kalaivaani ' in ragas thodi, ragamaalikai and kalyani were very enjoyable to watch. The rasikas also witnessed 'Kalyanam 'in sankarabaranam enumerating the marriage event of Shri. Venkatesha Perumal, the truants of little Krishna in 'Baarele Muthu Krishna 'and the aarathi song 'Baagyaadalakshmi 'in Madhyamavathi, where all the children displayed their talent in the grasp of all aspects of Bharathanatyam.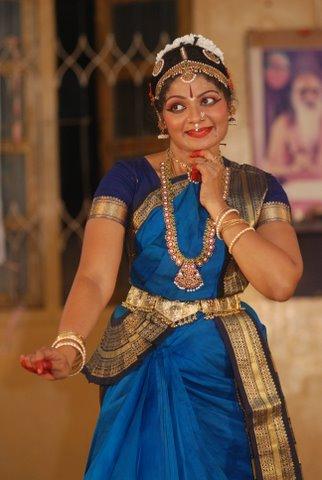 The thillana in Suruti, aadhi thalam was definitely a fitting climax to a beautiful dance program. Students and guru alike did complete justice to the program where the vocal support by Smt. Bhavani Santhanam was a major strength. Shri. Mohanakrishnan on the mridangam and Shri. Balaveeraraghavan on the violin added to the excellence and enjoyment value of this dance program.
Rasikas of Chinmaya nagar gathered in great strength and enjoyed every bit of the programme and appreciated every pogramme with thunderous applause.
The programme came to a happy end with Mangalam.

Sangeetha Rasika Sangam.