SANGEETHA RASIKA SANGAM - Muthuswamy Dheekshithar Day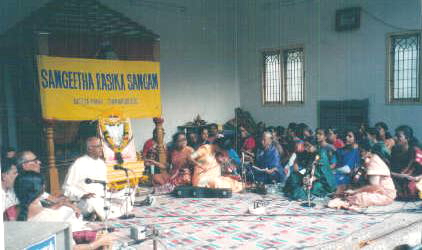 The Sangeetha Rasikar Sangam observed Muthuswamy Dheekshithar Day on the 2nd December,2001 in association with the Sristhuthi Sangam, Natesa Nagar as a homage to the great composer - one of the Carnatic Music Trinity who lived in the 18th-19th Centuries and enriched the Carnatic music traditions with their compositions. The program was held in the Dhyana Mantapam of Sri HariHara temple, Chinmayanagar Stage II, Chennai 600092.
Muthuswamy Dheekshithar attained mukthi on the Deepavali day. For practical reasons the Sangam observed the day on a later date.
Dheekshithar has composed many group krithis. Better known among them are the Navagraha krithis, the Navavarana krithis, the Panchabhootha linga kshethra krithis etc.
The program commenced with group singing of 'Vaathapi Ganapathim' followed by the 9 Navagraha Krithis sung by S.Shri M.Subramanian, V.V.Ramanathan, J.Ranjit, V.Sankar, Smt.Kalyani Raman (Sri Sthuthi Sangam), Smt Revathi, Smt Savithri, Smt Sumithra, Smt. Rajalakshmi, Smt.V.Rajeswari, Smt. Thripurasundhari and her group.
Violin accompaniment was provided by Smt. Prabha Krishnan, Smt. Jayanthi Kesav and Kumari Sudha.
Mridhangam accompaniment was provided by Smt.Thanjavur Padma and her disciples (Gowrishankar, Mukund and Kedharnath) and Srikumar.
Each of Deekshithar's krithi groups has some speciality in it. In the case of Navagraha krithis the first 7 'Vara krithis' have been set in the 7 Suladhi thalas (Dhruva, Matya, Roopaka, Jampa, Thriputa, Ata and Eka) the last two on Rahu and Kethu are set to faster Roopaka thalam. The compositions are majestic in structure and raga bhavam and describe the astrological aspects of the grahas. Deekshithar has also cleverly set the first 7 in Suddha Madhyama ragas (Sowrashtram, Asaaveri, Surati, Natakuranji, Atana, Paras ande Yadukulakambodi) and the last 2 in prathi madhyama ragas (Ramapriya and Shanmukhapriya) to indicate that the last 2 are 'apasavyasanchara' (revolving in the reverse direction) grahas.
Despite the fact that the krithis are difficult and the participants had learnt them from different teachers, the group sang in unison.
Navagraha krithis were followed by krithis rendered by individual artistes or smaller groups. It was heartening note the excellent response for the program. However, a few artistes could not participate and pay their homage due to want of time. The following participated in the individual rendering of krithis.
Smt Thripurasundari and her group (Kamalambikaayai - Kambodhi Navaavarnam)
Sri Kallidaikkurichi Sankaranarayanan and disciples (Senapathe - Panthuvarali, Sri Lakshmivaraham - Abhogi)
Sri V.Sankar (Baalagopala - Bhairavi)
Sri J.Ranjit (Karikalabha - Saveri)
Smt Chitra Unnikrishnan (Chinthaya maa - Bhairavi)
Smt K.S.Vijayasri (Sri Sathyanarayanam - Sivapanthuvarali)
Smt V.Rajeswari (Lalitha Parameswari - Surati)
Smt Thanjavur Padma (Panchasathpeetha - Karnataka Devagaandhari)
Smt. Latha (Sarasijanaabha - Nagagandhari)
Kum. Sudha (Ganapathe - Kalyani)
Kum. Madhumitha (Kaumari - Gowrimanohari)
Chi. Jayaraman (Sri Kanthimathim - Haimavathi)
Kum. Aarathi
Kum. Varshini (Kadambari priyaayai - Mohanam)
Kum. Krithika (Lalithambikam - Suddhasaveri)
Chi. Atheenthran (Santhanagopala - Kamas)
Kum. Meera (Sri Parthasarathy - Suddhadhanyasi)
Kum's. Nandini, Darasana and Pavithra (Mahaganapathim - Naata)
S.Sri. Bharath & Sankararaman (Santhanagopala - Kamas)
Smt Santha Sundararaman (Rangapura - Brindavana Saranga)
Smt Kalyani Raman and her group from Sristhuthi Sangam (Kamakshi - Simhndramadhyamam)
The program ended with the group singing of Deekshithar's krithi Dharmasamvardhani in Madhyamavathi.